I had SUCH a hard time narrowing down what to use for our family
Christmas Cards
this year!
First of all, you have to get just the right photo...and narrowing down just one...or two or three or four (photos) to use isn't easy...(at least not for me!!)
and then, how do you select just the right design?
Oh, decisions, decisions...
Call me crazy, but I typically order two different designs to send out...
The one I ordered today is (I think) my favorite of the 100's and 100's of choices...
Click HERE
to see it!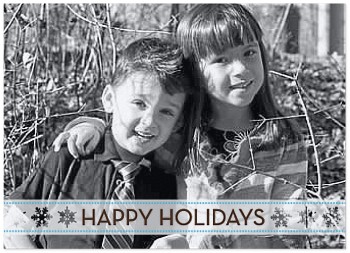 Paper Snowflakes Christmas 5x7 folded card
*** A huge THANK YOU to Shutterfly for offering my family 50 complimentary
Christmas Cards
for participating in their
Blogger Promotion for 2010!